Rapid prototyping or 3D printing is the manufacturing process for creating the components by layer wise deposition. The process starts with creating a 3D CAD model of the component to be produced. The CAD file is then converted to .stl (Stereolithography) file. The specialty of the .stl file is it stores the geometry details of the cross sectional layers of the component.  A 3D printing machine then used for creating the component based on the cross sectional geometry data.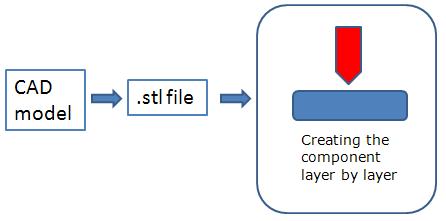 Advantages:
–      Complex shape can be produced
–      Good for manufacturing at conceptual stage
–      No custom tooling required
Disadvantages:
–      Only limited numbers of materials can be used
–      Costly process
Ideal applications: Suitable for making prototype out of the plastic and other easily meltable materials.